Pilot Magic
 - MUSIC FROM DAVID PATON -
David Paton – Discography
While you are probably familiar with David's vocals and bass work as part of the bands The Alan Parsons Project and Pilot, you may not realize how much more there is out there.
Not only has he worked extensively with Elton John, Rick Wakeman, and Fish in the studio and live, he has been one of the most sought after bass players in the industry.
Below is a pretty long list of most of work. The list is not exhaustive. There are some other entries we will be adding shortly and of course there are a few things David may have forgotten.
Don't run out and buy these expecting them to sound like Project or Pilot albums.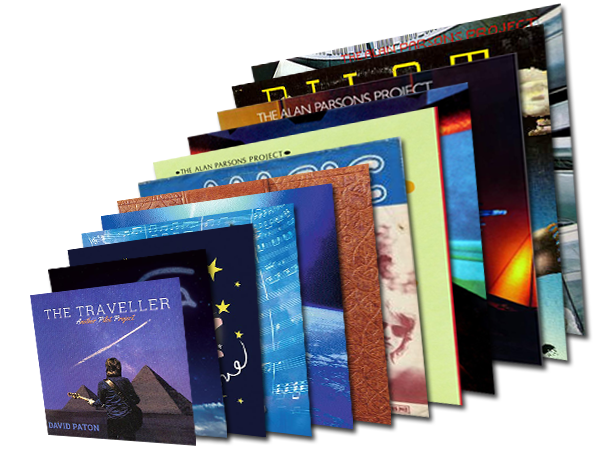 | Year | Format | Artist | Title |
| --- | --- | --- | --- |
| 1968 | Single | Boots | The Animal in Me |
| 1968 | Single | Boots | Keep Your Lovelight Burning |
| 1971 | Single | Chrystian | Nursery Lane |
| 119733 | Album | The Loreburn Singers | Bless This House |
| 1974 | Album | Pilot | From The Album of The Same Name |
| 1974 | Single | Scotch Mist | Ra Ta Ta |
| 1975 | Album | Pilot | Second Flight |
| 1975 | Single | Jack Harris | Sail Away |
| 1975 | Single | Pilot | Lady Luck |
| 1975 | Album | David Courtney | First Day |
| 1976 | Album | The Alan Parsons Project | Tales of Mystery & Imagination |
| 1976 | Album | Pilot | Morin Heights |
| 1976 | Album | William Lyall | Solo Casting |
| 1976 | Single | Marylin Miller | You've Got to Get Me Higher |
| 1977 | Album | Pilot | Two's a Crowd |
| 1977 | Album | The Alan Parsons Project | I Robot |
| 1977 | Single | Paul McCartney & Wings | Mull of Kintyre |
| 1978 | Album | The Alan Parsons Project | Pyramid |
| 1978 | Album | Don Black & Geoff Stephens | Dear Anyone |
| 1978 | Album | Kate Bush | The Kick Inside |
| 1978 | Album | Kate Bush | Lionheart |
| 1979 | Album | The Alan Parsons Project | Eve |
| 1979 | Album | Chris De Burgh | Crusader |
| 1980 | Album | The Alan Parsons Project | The Turn of A Friendly Card |
| 1980 | Album | Pilot | The Best of Pilot |
| 1981 | Album | Chris Rea | Chris Rea |
| 1981 | Album | Elaine Paige | Elaine Paige |
| 1981 | Album | John Townley | More Than a Dream |
| 1982 | Album | The Alan Parsons Project | Eye in the Sky |
| 1982 | Album | Jimmy Page | Death Wish II (III) OST |
| 1982 | Album | Camel | Single Factor |
| 1983 | Album | The Alan Parsons Project | The Best of The Alan Parsons Project |
| 1983 | Album | Andrew Powell + LPO | Plays the Best of The APP |
| 1984 | Album | The Alan Parsons Project | Ammonia Avenue |
| 1984 | Album | The Alan Parsons Project | Vulture Culture |
| 1984 | Album | Camel | Stationary Traveller |
| 1984 | Album | Keats | Keats |
| 1985 | Album | The Alan Parsons Project | Stereotomy |
| 1985 | Album | Elton John | Ice on Fire |
| 1985 | Album | Original Motion Pic. S/T | Ladyhawke |
| 1985 | Album | Various Artists | Performance-The Best of Tim Rice & Andrew Lloyd Webber |
| 1986 | Album | Elton John | Leather Jackets |
| 1987 | Album | Elton John | Live in Australia |
| 1987 | Album | The Alan Parsons Project | Tales of Mystery & Imagination 87 |
| 1987 | Album | The Alan Parsons Project | Best of Volume 2 |
| 1988 | Album | The Alan Parsons Project | The Instrumental Works |
| 1988 | Album | Elton John | Reg Strikes Back |
| 1988 | Single | Silvia Griffin | Love's a State of Mind |
| 1988 | Album | Rick Wakeman | Time Machine |
| 1988 | Album | Rick Wakeman | The Word & The Gospels |
| 1989 | Album | The Alan Parsons Project | Pop Classics (Compilation) |
| 1989 | Album | Matia Bazar | Red Corner |
| 1989 | Album | Frank Ryan | You You |
| 1989 | Album | Aleksander Mežek | Podarjeno Srcu |
| 1990 | Album | Catelina Caselli | Amada Mia |
| 1990 | Album | Propaganda | 1234 |
| 1990 | Album | Ron | Pri Le Bracci E Poi Vola |
| 1991 | Album | Rick Wakeman | The Classical Connection |
| 1991 | Album | Rick Wakeman | The Classical Connection 2 |
| 1991 | Album | Rick Wakeman | The New Gospels |
| 1991 | Album | Rick Wakeman | Softsword |
| 1991 | Album | Camel | Dust & Dreams |
| 1991 | Album | The Alan Parsons Project | Prime Time: The Alan Parsons Project Best |
| 1991 | Album | The Alan Parsons Project | Anthology (Connoisseur Collection) |
| 1991 | Album | Fish | Internal Exile |
| 1991 | Album | Davie Paton | Passions Cry |
| 1991 | Album | Richard Thompson | Sweet Talker |
| 1992 | Album | The Alan Parsons Project | Anthology (Italy) |
| 1992 | Album | The Alan Parsons Project | Hits in the Sky (Hong Kong) |
| 1992 | Album | The Alan Parsons Project | The Best of the Alan Parsons Project (France) |
| 1992 | Album | The Alan Parsons Project | The Ultimate Collection |
| 1992 | Album | Fish | Derek Dick & His Amazing Electric Bear |
| 1992 | Album | Fish | For Whom The Bell Tolls |
| 1992 | Album | Fish | There's a Guy Works Down The Chip Shop... |
| 1992 | Album | Fish | Toiling in the Reeperbahin |
| 1992 | Album | Fish | Uncle Fish & The Crypt Creepers |
| 1992 | Album | The River Detectives | Elvis Has Left The Building |
| 1993 | Album | The Pretenders | The Last of the Independents |
| 1993 | Album | Rick Wakeman | Prayers |
| 1993 | Album | Fish | Songs From the Mirror |
| 1993 | Album | Fish/Various Artists | Outpatients 93 |
| 1994 | Album | Fish | Sushi |
| 1994 | Album | Fish | Suits |
| 1994 | Single | Fish | Lady Let it Lie |
| 1994 | Album | Fish | Lucky Bastards |
| 1994 | Album | Fish | Fortunes of War |
| 1994 | Album | Rick Wakeman | Almost Live in Europe |
| 1994 | Album | Camel | On the Road 1982 |
| 1995 | Album | Fish | Acoustic Sessions |
| 1995 | Album | Fish | Yin |
| 1995 | Album | Fish | Yang |
| 1995 | Album | Fiona Kennedy | Maiden Heaven |
| 1996 | Album | Blair Douglas | A Summer in Skye |
| 1996 | Album | Rick Wakeman | Orisons |
| 1996 | Album | Rick Wakeman | Can You Hear Me |
| 1996 | Album | Camel | Harbour of Tears |
| 1996 | Album | Davie Paton | Fragments |
| 1997 | Album | Gerry O' Beirne | Half Moon Bay |
| 1997 | Album | The Alan Parsons Project | Gold Collection |
| 1997 | Album | The Alan Parsons Project | The Definitive Collection |
| 1997 | Album | Connie Dover | If I Ever Return |
| 1997 | Album | Andy M. Stewart | Donegal Rain |
| 1998 | Album | Fish | Kettle of Fish |
| 1998 | Album | John McNairn | Borderland |
| 1998 | Album | Alexander Mesek | Presented to the Heart |
| 1998 | Album | Dick Gaughan | Redwood Cathedral |
| 1999 | Album | The Alan Parsons Project | 36 All-Time Greatest Hits |
| 1999 | Album | The Alan Parsons Project | Eye in the Sky: The Encore Collection |
| 1999 | Album | The Alan Parsons Project | Master Hits: The Heritage Series |
| 1999 | Album | Tannas | Suileandubh (Dark Eyes) |
| 1999 | Album | Margaret Callan | Faileasan Uibhist |
| 1999 | Single | Donnie Munro with Holly Thomas | Will You Walk on By |
| 1999 | Album | Fish | The Complete BBC Sessions |
| 2000 | Album | MacAlias | Highwired |
| 2000 | Album | Donnie Munro | Donnie Munro |
| 2001 | Album | V.A. (Tribute to Kevin Wilkinson) | Green Indians |
| 2002 | Album | V.A. The Music of Marc Bolan & T Rex | Legacy |
| 2002 | Album | Kenny Herbert | The Last Song in Abbey Road |
| 2002 | Single | Kenny Herbert | A Man's a Man for A' That |
| 2002 | Single | Kenny Herbert | Live The Life |
| 2002 | Single | Kenny Herbert | Money Tree Fun |
| 2002 | Single | Kenny Herbert | Ever Changing Times |
| 2002 | Single | Kenny Herbert | I Can't Imagine Christmas Without You |
| 2002 | Album | Donnie Munro | Across the City and the World |
| 2002 | Single | Donnie Munro | She Knows Love |
| 2002 | Single | Donnie Munro | The Weaver of Grass |
| 2002 | Album | Holly Thomas | Oubliette |
| 2002 | Album | Pilot | Blue Yonder |
| 2003 | Album | Nobby Clark | If Only |
| 2003 | Album | Ray Wilson | Change |
| 2003 | Album | David Paton | The Search |
| 2006 | Album | Beagle Hat | The Magical Hat |
| 2006 | Album | Kenny Herbert & Rob Howat | Songs of Our Lives |
| 2007 | Album | David Paton | Fellow Man |
| 2007 | Album | Pilot | The Craighall Demos 71:76 |
| 2008 | Album | Nobby Clark | On the Inside |
| 2009 | Album | Eric Woolfosn | Eric Woolfson Sings the Alan Parsons Project That Never Was |
| 2009 | Album | Beagle Hat | Orange Groove |
| 2010 | Album | Rococo | Run From the Wildfire |
| 2010 | Album | The Apple Beggars | Another Positive Line |
| 2010 | Album | David Paton | Under The Sun |
| 2013 | Album | Sheep | Tokyo Sheepest Pop |
| 2014 | Album | Pilot | A Pilot Project |
| 2019 | Album | David Paton | The Traveller: Another Pilot Project |
| 2020 | Album | David Paton | 2020 |