Pilot Magic
 - MUSIC FROM DAVID PATON -
Shop
To purchase any CDs, please select the item from the selection below and then click the Add to Cart button.
Please do NOT select shipping to a region you do not live in. The USA is considered Worldwide shipping.
You can view your cart before checkout anytime by clicking on the view cart buttons located just below and at the bottom of this page.
You do not have to have a PayPal account as PayPal will alow you to use your credit card.
Digital Downloads of many of these albums are also available at CD Baby and through iTunes, Google Play, and Amazon.
The Magic Collection:
Because of lockdown, I've spent most of my days in the studio recording and experimenting with ideas. This is where the recordings for The Magic Collection began.
It has been a very productive time for me, I felt very at home with the Pilot songs and spent a lot of time listening to the albums and picking out my favourites.
I'm really delighted with the end result and I believe that the music has adapted well to a more modern approach. Pilot music does have a timeless quality to it so reworking the songs has been a very enjoyable task.
I hope Pilot fans are happy with the new interpretations. Thank you all for your continued support.
David
Track List.
01. Magic 2021
02. January
03. Over the moon
04. Just a smile
05. Lucky for Some
06. Canada
07. Lovely Lady Smile
08. Penny in my pocket
09. Out of touch
10. To you alone
11. High into the sky
12. You're devotion
13. Sky Blue
New Book on Sale – Paperback
Paperback Copies Now Available.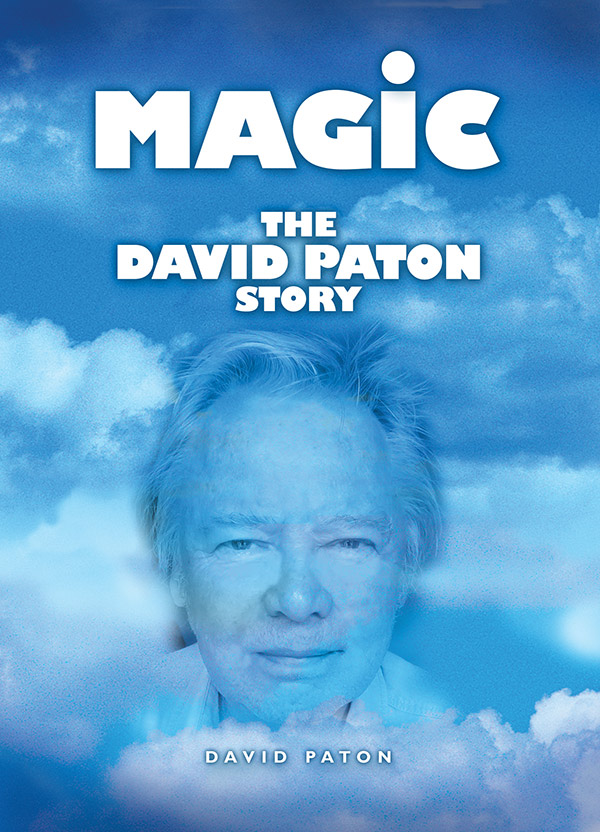 Magic – The David Paton Story – Paperback
"When I discovered The Beatles at the age of fourteen, I had no idea that one day I'd work with Paul McCartney in Studio two at Abbey Road; or that I'd write a number one worldwide hit; or that I'd spend three years touring the world and recording as bass player with Elton John, including playing in his band at Live Aid. These achievements were well beyond my imagination – yet I did them.
Making music is a joy and a privilege, but my career as a musician has made it possible for me to meet and work with some of the world-famous artists that I idolised. I am the singer, songwriter and bass player with the group Pilot. I wrote the worldwide hits 'Magic', 'January' and 'Just a Smile'. I was a member of The Alan Parsons Project for ten years. I have done session work with The Pretenders, Paul McCartney, Kate Bush, Chris De Burgh, Chris Rea and Jimmy Page, to name but a few."
This book gives an insight into the life of a successful songwriter and session musician. I have a lot to say, but as well as telling my story, I also offer a valuable insight into what to do – and what not to do – should the reader be interested in pursuing a career in music.
David Paton first gained recognition as the lead singer and writer of the group Pilot, writing their hit songs including 'Magic' and number one 'January' in the mid-1970s. He then went on to collaborate with various major artists such as Kate Bush, The Alan Parsons Project, Elton John and Paul McCartney.
He has always had a genuine passion for writing, playing, and producing all types of music, with an emphasis on collaborating with other musicians. Still active in music, he lives in Edinburgh, Scotland.